2017 Mercedes-Benz E-Class Trims and Body Styles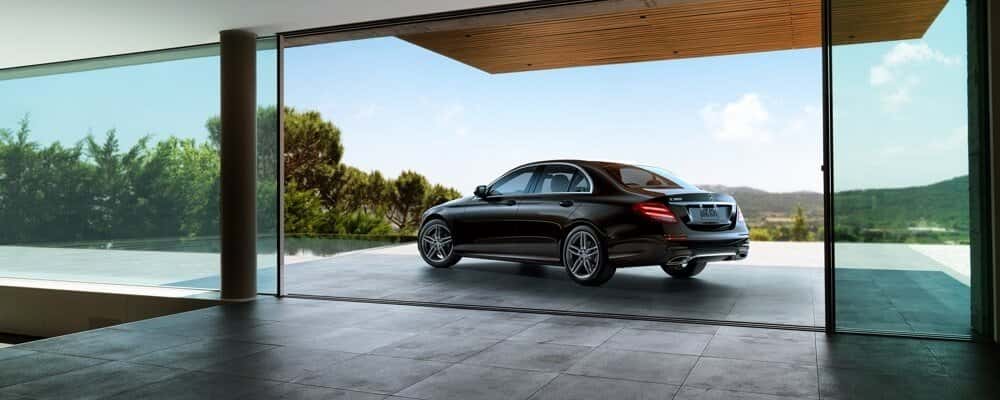 The 2017 Mercedes-Benz E-Class allows the freedom to choose between sedan, coupe, cabriolet, and wagon body styles, and each one fulfills its goals. Of course, it's not uncommon for drivers to struggle choosing between such expertly balanced body options, so read our quick overview to get an idea of which Mercedes-Benz E-Class might be the right one for you.
Learn More About the E-Class View Our E-Class Inventory
E-Class Sedan
The new E-Class Sedan is going to suit the lion's share of luxury drivers. It combines spacious seating and up to 13.1 cubic feet of cargo space with a wide array of comfort, convenience, safety, and entertainment features. Few body styles are quite as iconic.
E-Class Coupe
The Mercedes-Benz E-Class Coupe takes the natural sportiness of the luxury coupe class and optimizes it in every way possible. This is a body style endowed with inherent sophistication and boldness, and the Mercedes-Benz E-Class Coupe uses eye-catching frameless glass doors to leverage that potential to full effect. Engineered for a more direct relationship between driver and drive, and fitted with a 329-hp V6 engine as standard, it's also thrilling to get behind the wheel.
E-Class Cabriolet
If you want to make the most of sun-soaked Texas days, the Mercedes-Benz E-Class Cabriolet makes a natural choice. While cruising between Cedar Park and Austin, just drop the soft-top in as little as 20 seconds to feel the warmth of the sun on your skin and the cool breeze through your hair. When the weather isn't so cooperative or you simply want to drive enclosed, the three-layer fabric ensures that outside noise stays where it should.
E-Class Wagon
Turn to the 2017 Mercedes-Benz E-Class Wagon for an extended body capable of accommodating up to seven passengers comfortably and taking up to 35 cubic feet of cargo through its rear hatch. Unique among wagons, this body style never loses the sleek, polished appearance of other Mercedes-Benz E-Class models. For SUV-like space without the bulkier shape, heavier body, and less practical efficiency ratings, the 2017 Mercedes-Benz E-Class Wagon stands alone.
Explore Mercedes-Benz E-Class Trim Levels Further at Mercedes-Benz of Georgetown
With a range of trim levels expressing a wide range of needs and desires, the Mercedes-Benz E-Class lineup is instantly desirable. To talk about financing, find out more, or arrange a test drive in either the base E 300 Luxury or another model, all you need to do is contact Mercedes-Benz of Georgetown.