The 2017 Mercedes-Benz C-Class Offers Fresh and Daring Performance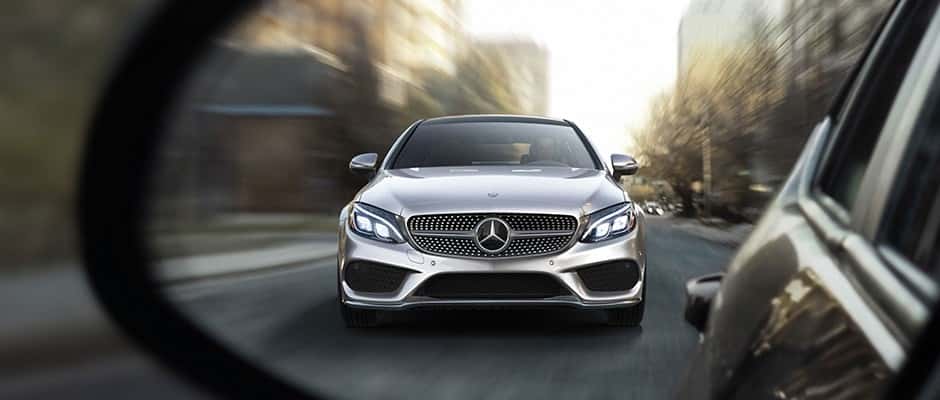 The 2017 Mercedes-Benz C-Class delivers the type of dashing and alluring performance emblematic of the three-pointed star. Enjoying a sense of flair and surety mirrored by its charismatic styling, the vehicle calls upon one of four state-of-the-art engines alongside a bevy of high-performance features to supply a deeply spirited ride.
Engine Options
The polished athleticism of the 2017 Mercedes-Benz C-Class goes beyond surface-level, with four incredible engines from which to choose:
2.0L Inline-4 Turbo: Makes up to 240 hp and 273 lb-ft of torque.
AMG®-Enhanced 3.0L V6 biturbo: Makes up to 362 hp and 384 lb-ft of torque.
Handcrafted AMG® 4.0L V8 biturbo: Makes up to 469 hp and 479 lb-ft of torque.
Upgraded Handcrafted AMG® 4.0L V8 biturbo: Makes up to 503 hp and 516 lb-ft of torque.
Penetrating Performance
The stirring power conjured up by the 2017 Mercedes-Benz C-Class is only ever as strong as the performance systems it relies upon, and there's no weak link in this chain. Using the following engineering features is what truly grants the vehicle its edge:
AGILITY CONTROL®: Engineered for sportier driving, individual shock absorbers evolve around changing road conditions for sharper feedback and pinpoint handling.
Torque VectoringBrake: Detects understeer and then shifts torque and applies corrective braking to eliminate it.
DYNAMIC SELECT: Cycle between multiple modes to adjust shift points, throttle, steering feel, ECO Start/Stop, and available AIRMATIC® suspension. There's even a fully-customizable Individual mode
Multiple Suspension Systems: Choose from standard 4-Wheel Multilink Suspension, available Sport Suspension, available Comfort-Tuned Suspension, or available AIRMATIC® Suspension.
All-Season Control
Outfitted with available 4MATIC® all-wheel drive, your 2017 Mercedes-Benz C-Class will exhibit the same blend of sportiness and self-possession characteristic of ideal driving conditions when you navigate snow, rain, or frost.
It's a system that is always engaged to maintain a proper watch over your well-being. Integrated with the Electronic Stability Program and 4-wheel Electronic Traction System (4ETS®), it monitors for wheel slippage and then responds instantly to correct it.
The Power and Grace of the 2017 Mercedes-Benz C-Class Speaks Volumes
There's a certain feeling you experience when you take a ride in the new Mercedes-Benz C-Class Sedan or Coupe, and it's one that hints at the way it feels to actually get behind the wheel and control such a pinnacle of automotive engineering. Contact us today to find out more, or feel free to visit our showroom — we're only a quick drive north from Austin, just east of Cedar Park.